Letter from the President sent with the Foreign Affairs Minister
Spoiler:

Dear Most honored and dignified guests
Hello and welcome to the Grand and Glorious Republic of Calma Domhain, where we offer nothing but the greatest care to our guests, hospitality is one of our greatest assets after all. Please, see the sights, hear the sounds, smell the smells, etc., etc., and overall, enjoy your stay. Provided on your tour is our, rather young, minister of foreign affairs, Alexander J. Wilson
-President Andrei Nazarov

Hello and Welcome, I'm Minister Wilson, but you can call me Alex, well I believe we should probably get started wouldn't you think so? Our tour today will take us on a trip around the coast for the most part. We will probably spend quite a while in the North because of a combination of the attractions and the traffic.



Welcome to the City of Grevinster! Located along the southeast coast it is home of two O'Briens Premier League teams, Grevinster County and North Grevinster, who played this match at Grevinster Stadium. It is the most anticipated match in the region. The O'Briens Premier League is the top flight of Calman Football, or "soccer" as I've heard it called before. Grevinster has alot to offer the USNW, it is a premium trading location, as we have good relations with our Eastern and Northern neighbor Sabu and the city is located in the channel between the Eastern Sabu island, however, as a heads up, we call them oileains. Traditionally Calman people use a combination of Teanga and Trentannian, it can be confusing to foriengers who only know Trentannian but most officials know Trentannian as other nations use it rather than the Calman dialect like most citizens. For example, a typical Calman would say: "Hoigh! my a'name is Alexander n' 'ma minister withan govey." which when translated to standard Trentannian is "Hello, my name is Alexander and I'm a Minister with the Government." Anyway, its not like you'll go back saying Hoigh to your comrades and talking about Oileains so we'll move on.



Now we took Richmond Ave. up until it left civilization and turned into Richmond Highway and took that up to the Grevinster South Bypass and took a Gravel road to here. Now I want everyone to know exactly what rallycross is to Calmans so I've provided a state sponsored tourism video (eh, they make me do this, even If I am the foreign affairs minister)



This is the Grevinster Rallycross Circuit and it's a major raceway to us. The Calman motorsports ladder starts in open fields with friends joking around driving their own street cars against eachother on courses outlined with cones or something similar like tires. Then they might get into a group of enthusiasts, then they may start entering real pro races, then they will probably enter the Calman Touring Car Championship. One example of this system is sixteen year old Riley Luke, son of six time Calman Touring Car Champion Joel Luke. Riley began running with some of his dad's former enthusiast friends who had given up racing besides the occasional friendly race when he was just 13. The next season he joined an enthusiast group and the year after he ran Winford and Anderson, the two largest rallycross events in the nation. Now, back on the bus everyone, places to go, things to do, people to meet.



Now for lunch at a typical Calman eatery, this is O'Briens Ice Cream Shop, its a chain actually that is located all over the world but it started here in Calma. Now, you can get whatever you want of course but I'm getting a Cocone with sprinkles, yum Chocolate and sprinkles, am I right?



Heading up the highway, we need to stop for gas. If you need to use the bathroom or get a snack, now is the time, but don't worry, like President Nazarov said, we treat our guests with the utmost hospitality, it's one of our greatest assets, our hospitality.


Now that we're done with that, i'll just tell you about a few things which are of importance here in Larnach Town. First off, it is the capital of the Lanach Province, one of our eight provinces. We also consider the Federal Territory a Province even though its not really, nor does it have the size of one. Second, it is home to Larnach Town, another Premier League squad, and third, it has a full fledged paved circuit, where all the drivers that raced down at Grevinster will one day hope to race.

Moving on anyway, we will head back to the coast and continue to Little Insulo and Little Warsaw, an Ensurian district and a Polish district north of Winford.



Welcome to East Square, the main gathering place in Little Insulo. Here you can go to the club, learn about culture (Trentannian and Insulian are used at the School), or get out of town thanks to the East Square station of "The System," the nickname of Winford's subway station.

Crossing the Winford River, we're going to come across Little Utrova.psssst... driver, turn off at Exit 4... and we'll stop by and see some of the area around there.

Here we have the main watering hole of Little Utrova, listen, we need to call up the airport to see about our helicopter for our VVVIP's to see how ready it is




beeeeeep-beep-beep-boop-boop-beep-beep-boop





Hey, is it ready? Come on, this is important for us, we can't blow it! Youve got twenty minutes!



Ok then VVVIP's, looks like it's ready


Now we're gonna make a big enterance at Jackson Habor's Harbor Square, be ready for crowds but there's plenty of security for the security


Isn't this a nice view comrades? I can see our landing site! Cinnsuas!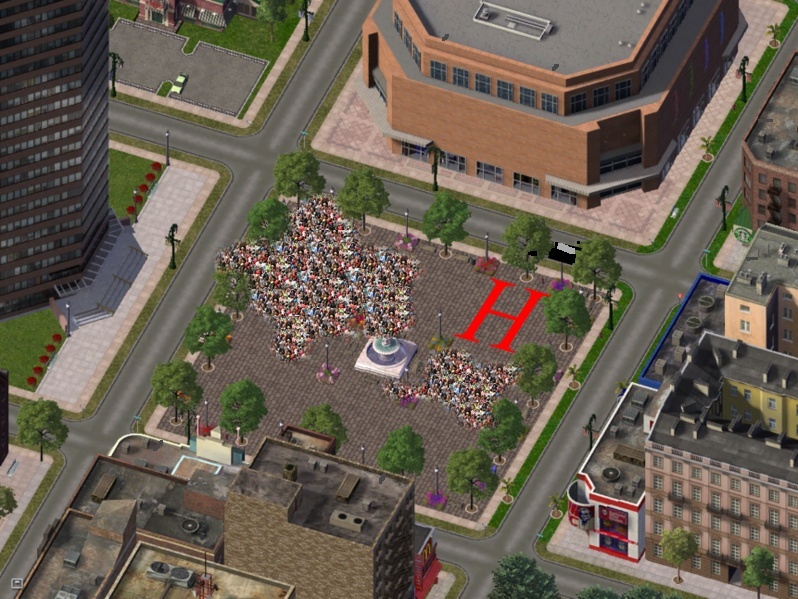 Speaking of hidden security, ladies and gentlemen, can you identify our seven camouflaged snipers? six are on rooftops and one in a window.

Now we're going to take the Calman made Limo up to Petrola Baile, we don't have time to stop but we will pass Fort Bua, the main Naval center in Calma, but we will stop by the BBOC Refinery, the largest in the West Cillcean Ocean.






umm... driver, this isn't the refinery... mind taking us to the refinery? Lost? what do you mean we're lost, we're in our home country!



Sorry, did I say refinery? I meant we will be driving around showing some transport around the suburban Petrola Baile, Gasoline Village in Trentannian. We don't see too many benefits for Beltways with the nature of Calman cities and Central Business districts, most of which are along coasts or other areas which cannot be well served by a beltway, however there is a "Beltway" of sorts in Petrola Baile. It is a two lane road however it has no stop light intersections, most intersections are roundabouts, but there is one, this one, which is a limited access interchange. Unfortunatly, this is but a two lane road, and if you end up stuck behind a slower vehicle, it can be almost as bad as the main surface streets.

Well we're running low on time, we must get going to the capital, so the president may see you.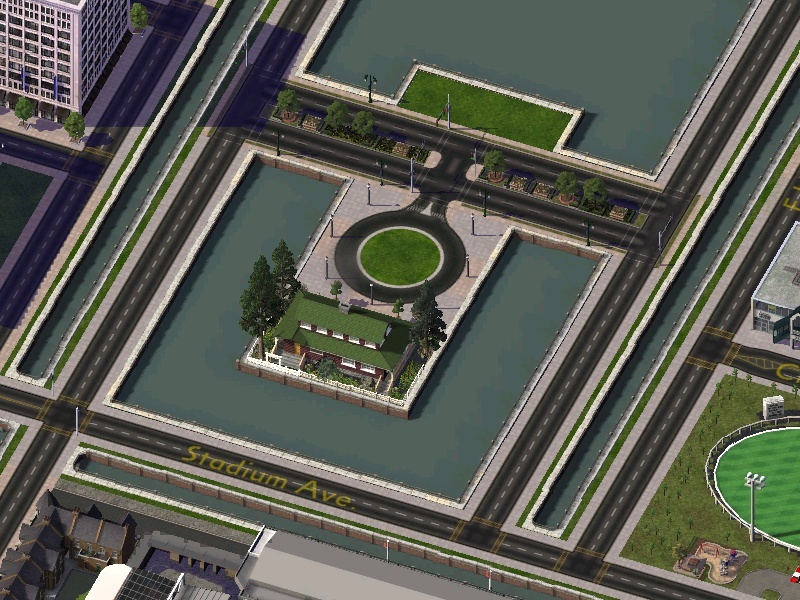 Nazarov:
Guests! welcome, welcome! Now, it has been a long day i'm sure, your trip has taken you what, 300? 400 miles? I'm sure atleast. Well, please, enjoy the accomidations here at the President's Hall, It is where every president since Dermot Kelly has called home for his four or eight years in office. 31 great men and then me.
We would be calling it 32 and me except for the first great war ending with the death of our founder, may he rest in peace, Sir Finnegan Brannigan. Though Calma has been sovereign since well before Brannigan lead the 1838 victory, we have only been a wholly democratic nation since he won us independence. An independence we almost lost to the socialist menace in the early to mid 1900's. It started with Prokhorov's false promises in the 20's and ended in Ryan's false democracy in 1964. We had to resort to violence to retain our democracy but we remain independent to this day. Now please, it is time for our evening meal please sit and enjoy a nice barbecue sandwich dinner, hilltop style, the good kind


As for beverages, we have selections of Fine wines, ales, colas and nearly everything else imaginable. May I recommend a DC Cola, DC Cherry Cola or Lisieux Special Ale?



Last edited by Will on Fri Jul 22, 2011 5:47 pm; edited 1 time in total