Continually a head of the rest
Passanger service
AirPol or Air Polandria, is the flag carrier of Polandria. It is owned by AIR and based in Varsztat Polandria and established in 1932, it is one of the oldest airlines in operation. With a fleet of 200 aircraft AirPol serves over 296 destination from all over Adonia. Most of its destinations are served from its hubs: Varsztat, Polandriat, Pariscz and Minskean. The airline is a long distance carrier with a well placed domestic hub-to-focus city network that wraps around Polandria. In 1946 AirPol became a private company and grew its fleet from 32 aircraft to 104. In 1983 the airlines grew again and became the largest carrier in Itzamna with 189 planes. By 2009 the airline had 185 aircraft and 260 destinations. In 2011 AirPol leased 20 B777-200ER's from LOT Polandrian Airlines. AirPol also has the right to buy-out all of the 20 leased aircraft if they choose not to phase them out with the B777-300ER aircraft. This brought the total of aircraft to 200 with 55 on order.
As a part of the airlines transformation in 2001 a campaign was started to lift the bar of air travel with the purchase of new A330 aircraft for the replacement of A300 aircraft. This was marked by a "evolution in air travel experience" campaign that carried over to the B777 addition as well. AirPol continues the campaign with future orders of the A330, B777, A380 and B747-400ER.

As of October 17th 2011 AIR sold 49% of AIRPOL to TrentinoAir. TrentinoAir will also become AIR's investment partner on future products and services.

Cargo Operations
In 1997 with the retiring of the first B747-400 AirPol began it's AirPol Cargo division with the conversion of the plane to a B747-400F AirPol Cargo aircraft. Since then the Cargo fleet has grown to 46 former B747-400 AirPol passenger jets with the last 5 being converted as new B777 arrive.

Future
In September 2011, AirPol announced a 35.6 Billion dollar investment proposal in the AirPol fleet the will begin soon with the purchase of new aircraft that have still not been confirmed. AirPol is continuing to shop for airplanes for this expansion.

In October 2011 AirPol made it clear that they were interested in opening a new airline out side of Itzamna. No more has been reported by the company as they focus on their continuing fleet expansion for now.

In September 2011 AirPol Cargo announced it would be looking at the expansion of their cargo fleet. It is said the division is looking to purchase a further 23 B747-400 converts but nothing has been officially announced.

In 2011 the airline started a new campaign with the change of their motto "Continually a head of the rest" with an emphasis on "experiencing the finer side of air travel with AirPol".

AIRPOL has announced on OCT 17th it will renew it order of 747's variants with the new 747-400ER. The 747-800 will be shelved for the time being.

As of October 17th 2011 AIR has announced AIRPOS will be its newest Legacy carrier outside Polandria in Posillipo. The airline will be co-owned with TrentinoAir owning 49% of the AIRPOS.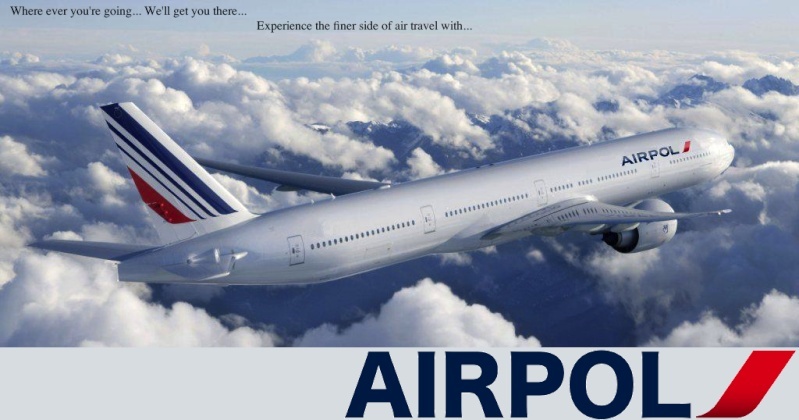 New advertisement*
Fleet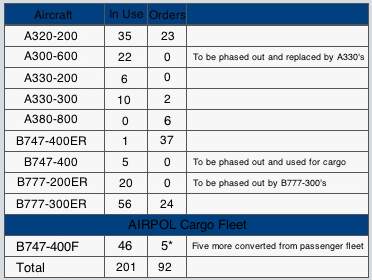 Polandriat Intl. An AirPol A300 arrival from Guyesia and a B777-300ER boarding for departure to Mallano. Above is another B777-300ER arrival from Peilan.
Since its inception AirPol has seen the demand in comfortable air travel and has always answered the call. Here is an example of an old advertisement.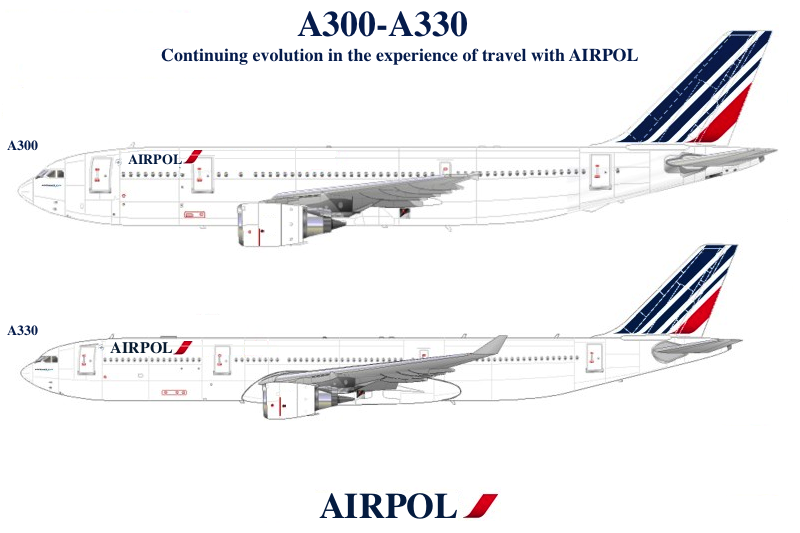 Last edited by patat1 on Mon Oct 17, 2011 9:22 pm; edited 5 times in total